CIEL 47 Annual General Meeting
Événement du 23/05/2014 au 23/05/2014
- Exchange meetings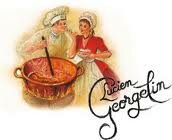 On May 23rd, the Club Export CIEL 47, chaired by Patrick GEORGELIN, organized its General Annual Meeting at LUCIEN GEORGELIN's premises in VIRAZEIL...
On this occasion, more than 30 participants gathered to attend the presentation of the moral and financial results of the 2013 actions of the Club and also the actions undertaken and ongoing for 2014.

After the presentation, Patrick GEORGELIN invited the participants to a very interesting tour in the new premises and production facilities of the company.

At the end of the visit, the participants had a convivial lunch together at the restaurant "The Old Porch" in Seyches.

We invite you to discover below the photos of this event!
Galerie d'images